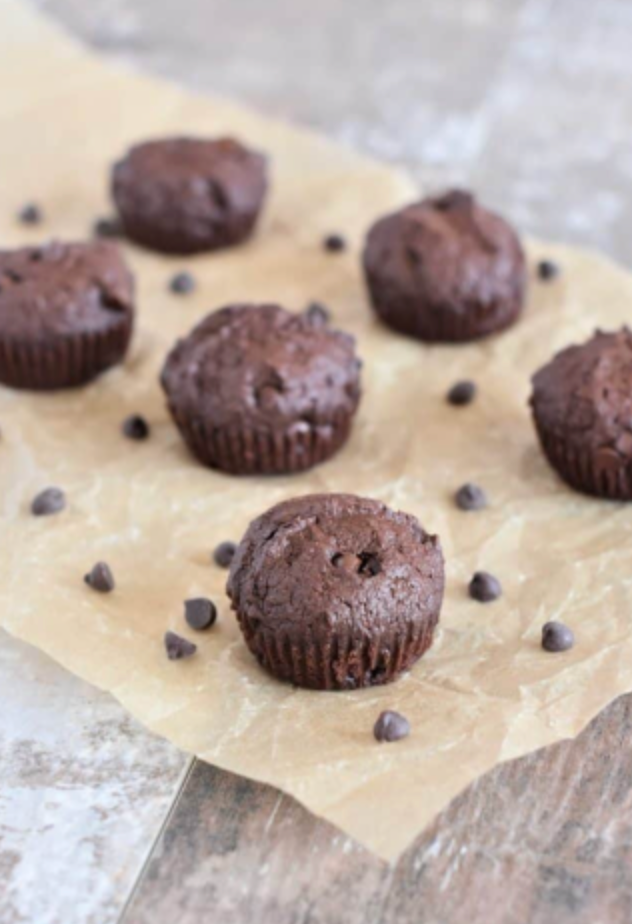 You're going to want to hide these from your kids (or make a second batch).  They are SO good and such a perfect packed lunch treat, snack on the go, or night-cap. 
I love these because of their balanced macros and delicious taste.  Perfect for that time of the month where you're a little extra hungry and your sweet tooth is a little extra loud.
Makes 24 brownie bites.
Macros: 1 brownie ( 5 P / 5 C / 1.5 F )
Ingredients:
220g (1 cube) fat free cream cheese (softened) 

55g plain greek yogurt

120g pumpkin puree

1 whole egg

3 egg whites

2 Tbsp fat free creamer

8g honey

46g mini semi sweet chocolate chips (set aside 22g for top of brownies) 

5g coconut oil

3 Tbsp coconut flour

7 Tbsp cocoa powder

1 tsp baking soda
Directions:
Preheat oven to 325 degrees. Spray 24 count muffin tin with non-stick cooking spray. Set aside.

Melt 24g mini chocolate chips and coconut oil together. Set aside and cool.

In a kitchen aid, mix together cream cheese, greek yogurt, pumpkin puree, egg, egg whites, fat free cream and honey until combined. Add melted chocolate chips and mx.

In a small mixing bowl, mix together coconut flour, cocoa powder, protein powder and baking soda.

Add dry ingredients to wet ingredients and mix until smooth.

Scoop batter into well greased muffin tin and top with the remaining 22g of mini chocolate chips.

Bake for 20-26 minutes or until toothpick comes out clean.