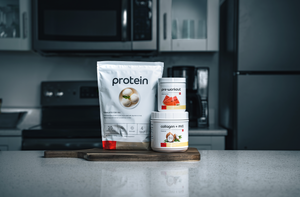 Stack and save 25%
If your goal is to growth, save 25% on your iHeart Protein when you purchase the Grow Stack with our two other most popular muscle-building supplements.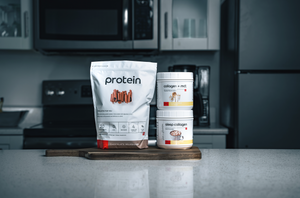 Stack and save 25%
If your goal is recovery, save 25% on your iHeart Protein when you purchase the Recover Stack with our two other most popular tissue-repairing products. Easily Digestible
Free of the ingredients and additives that cause bloating in most whey protein powders. Zero-chunk mixing
Microscopically milled, iHeart Protein dissolves and mixes easily into shakes, batters, oatmeals, etc. Virtually lactose-free
Nutrient-dense, protein-rich whey with virtually zero lactose, carbohydrates, or milk fat.
Simple flavors that taste amazing
We keep it simple so that you can bake, mix, shake, and cook with your protein.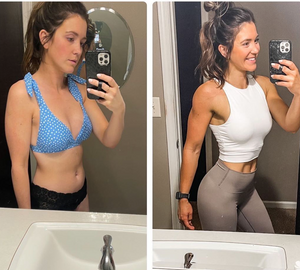 Are you getting enough protein?
Protein is essential for muscle growth, metabolism, sleep, immune function, brain health, and more—and if there is one thing that years of macro coaching have taught us, it's that most people aren't getting enough.
We typically recommend getting at least 1 gram of protein per pound of bodyweight every day (exceptions apply - take our program quiz here if you're interested in a customized macro count).  
But for most of us, it can be difficult to meet a protein goal like that with only animal and plant proteins. This is why a protein supplement is so helpful and so crucial for anyone new to counting or with a busy lifestyle.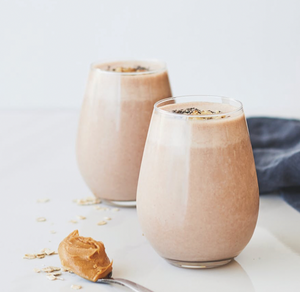 Simple flavors that mix easily.
iHeart Protein is not a one-use supplement. Shakes in blender bottles are great, but being able to meet your daily protein goals with cakes, oatmeals, muffins, and other pastries makes this protein even more mouth watering.
A no-bloat formula.
With a superior quality, 99% lactose and additive free, high-quality whey protein, iHeart Protein eliminates the very painful stomach bloat that is common in many protein powder supplements.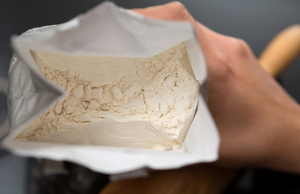 Superior quality whey isolate
A nutrient-dense, protein-rich whey that has been rigorously tested and cleaned of harsh chemicals, mold, and metals found in many isolates.
You deserve a clean, delicious, high-protein powder that'll give you the best nutrition possible.
iHeart Protein was designed to solve a problem. Quincey (Company founder) being a high protein eater for years, utilized protein powders to meet her daily protein requirements.
Like most protein powder consumers, everything she tried caused painful bloating. After some research, we found that it wasn't an issue with the protein isolate but all the additives, the artificial sweeteners, the dairy, and the "fillers". So we created our own.
The perfect post-workout.
Lean muscle mass, simplified.
Post-workout nutrition is widely disputed in the fitness world, but in general, the recommendation is to replenish depleted glycogen stores with a combination of protein and carbohydrates within 2 hours of completing your workout. *
Best protein for lactose issues!

"I have had MANY issues trying to find the right whey protein that will agree with my stomach and lactose issues. This protein powder is WHERE IT IS AT! I absolutely love it and the flavor is delicious. I only mix it with water and it's still so good."

— 

Megan
The absolute BEST vanilla protein powder

"This stuff is seriously AMAZING! I love having vanilla protein on hand because it's easy to throw into pancakes, smoothies, etc. 

I generally mix my protein with milk, but this stuff is so good you can mix it with water and it's still incredible! I will be keeping multiple bags on hand and I can't wait to try more flavors!"

— 

Dora
Best protein ever!

"I've been using the iHeartmacros protein for over three years! It is the best tasting, easiest on my stomach protein I have ever tried (I feel like I have tried them all) I am lactose intolerant and it doesn't bother my stomach at all."

— 

Camille
Whey protein isolate that won't make you feel bloated.  
Designed to reduce the protein bloat and digest easily, iHeart Protein is also rigorously tested for mold, unhealthy bacteria, and heavy metals to ensure you're getting the cleanest protein possible. Each serving contains 20 grams of high-quality 90% Whey Protein Isolate.
How to use iHeart Protein:
1. Optimize your nutrient timing.
Protein can be taken any time throughout the day to supplement daily protein intake. We recommend taking it within 30 min after exercise, during one's anabolic window, where protein can be best utilized for Muscle Protein Synthesis.
2. Mix and go.
Mix one level scoop with 8-10 ounces of cold water or preferred liquid.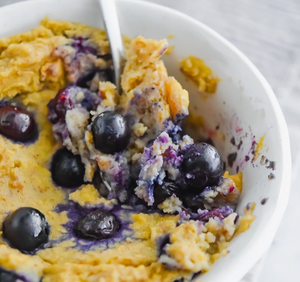 Quincey's Vanilla Berry Protein Cake
261cals | MACROS: 30p, 34c, 1.8f 
INGREDIENTS:
100g liquid egg whites 
20g iHeart Protein in Vanilla Cream
20g oat flour 
70g pumpkin purée 
70g frozen berries 
DIRECTIONS: 
1.) In a microwave safe bowl, mix all ingredients together except the berries, until smooth. 
2.) Once stirred and mixed to a paste, add berries. Stir until berries are coated. 
3.) Microwave for 5 minutes on 70% power. Then microwave for 1 minute on high. 
4.) Enjoy with some sugar free syrup or any nut butter.
Frequently Asked Questions