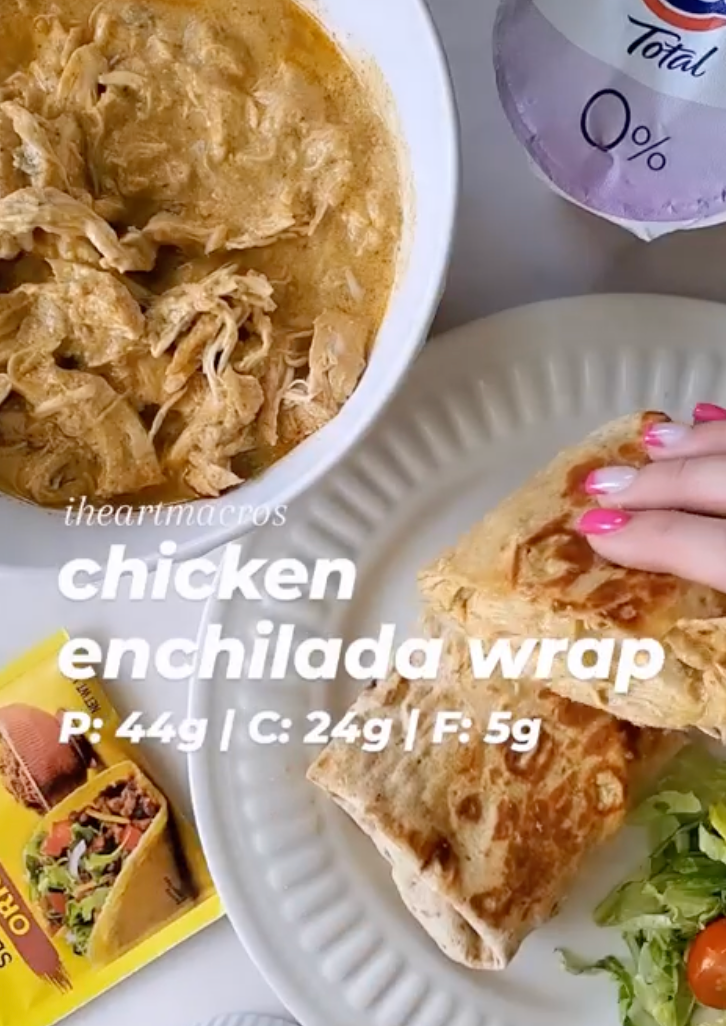 One of my favs! You won't believe this Green Chicken Enchilada Wrap is only 380 calories—it's creamy, melty, crunchy, and addicting. This is a healthier take on Enchiladas Suizas. By swapping sour cream for Greek yogurt, skipping on smothering, and choosing a low-carb wrap, you save hundreds of calories and it tastes just as savory. Did I mention 44g PROTEIN!!!
.
MACROS PER WRAP: 5F 24C 44P
Filling ingredients (enough for 4 wraps)
Ingredients:
4 chicken breasts
1- 28oz can green enchilada sauce
1- 6oz container Fage 0% plain yogurt
½ packet taco seasoning
1 low carb wrap or tortilla 
Optional: ¼ cup shredded reduced fat Monterey jack or mozzarella cheese
Directions:
To make the filling:
Add chicken, enchilada sauce, and taco seasoning into the slow cooker.
Cover and cook over low for 4-5 hours or high for 3 hours, until the internal temperature reaches 165 degrees and breasts are cooked through. Turn off slow cooker.
Remove the breasts and carefully shred them against the grain with two forks.
Add shredded chicken back into the slow cooker, along with Greek yogurt. Stir until yogurt is combined. 
The chicken is ready to use or store in a tupperware for meal prep.

To make a wrap:
Add 6oz of prepared chicken onto a wrap, along with cheese if using. Fold it tightly crunchwrap or burrito style.
Spray a skillet with cooking spray and heat to medium. Add the wrap, then cover with a lid and cook for 6-8 minutes.
Flip the wrap and cook an additional 6-8 minutes or until it's golden brown on both sides.
Letting the outside char a bit adds delicious flavor to these and prevents them from falling apart.
Slice in half and enjoy!
Macros were calculated using Fage Total 0% plain yogurt, Cut Da Carb wrap, Hatch green enchilada sauce, and reduced fat mozzarella cheese. **Adding the cheese will add 80 cal + 6g fat to the macro count above 😘