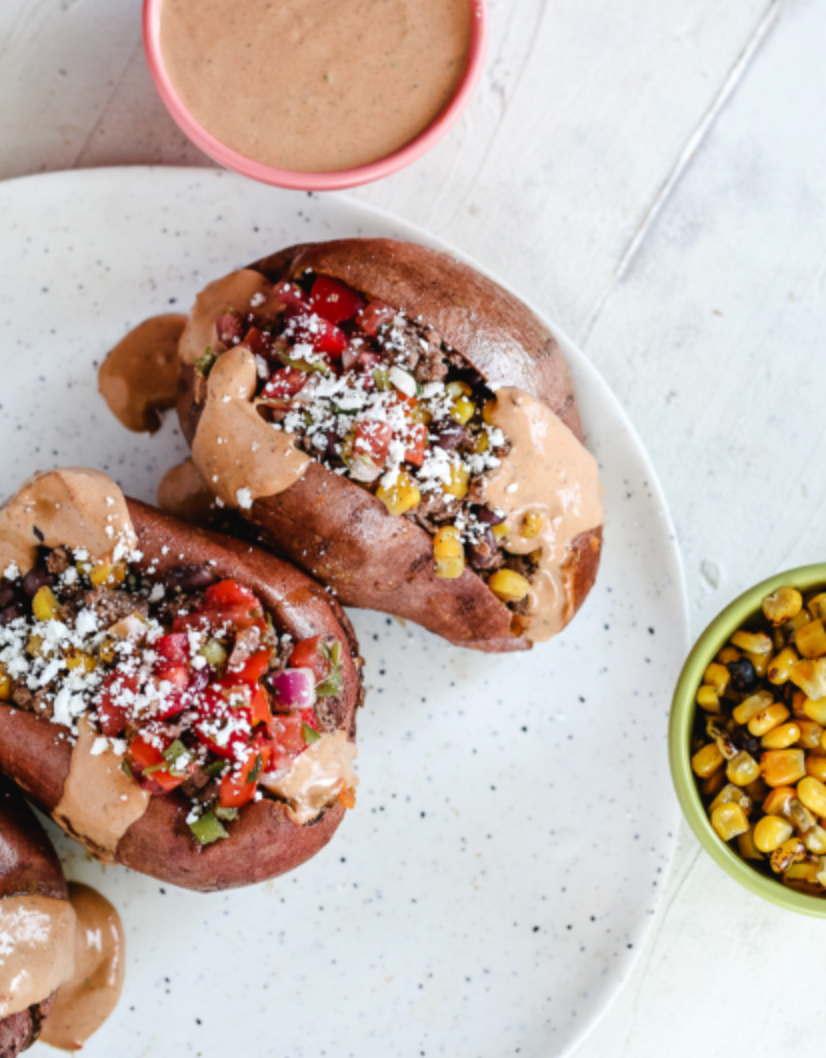 Something about summertime and farmer's markets and all of that fresh, locally grown produce just makes me want to get a little creative and nutrient packed in the kitchen.  Every once in a while I can convince my kids and husband to get their veggies in with me and this is a great go-to.  It's so flavorful and totally customizable according to what you'd like to add/not add.
Bonus: This recipe is gluten and dairy free! A great option if you struggle with gut and digestive issues.
Macros for Stuffed Sweet Potatoes:
Makes: 3 servings
Macros: 1 stuffed potato ( 17 P / 40 C / 7 F )
Macros for Smokey Chipotle Tahini Sauce:
Makes 12 servings
Macros: 2 Tbsp ( 3 P / 2 C / 8 F)
Ingredients
Stuffed Sweet Potato:
1 lb. Lean ground beef

2 tsp. cumin

1 tsp. paprika

1/2 tsp. onion powder

1/2 tsp. garlic powder

1/4 tsp. salt

1 cup frozen corn

1/2 cup black beans

3 medium sweet potatoes (130g each baked)

1/4 cup fresh pico de gallo
Tahini Sauce:
1/2 cup tahini

2 chipotle peppers + 2 Tbsp. adobe sauce

1 Tbsp. avocado oil

2 Tbsp.c chopped cilantro

1 tsp garlic powder

1 tsp. liquid smoke
Directions:
Preheat oven to 400 degrees.

Wash and dry sweet potatoes, lightly spray with cooking oil and place in oven on a lined baking sheet for 30 minutes.

While potatoes are baking, prepare taco mixture.

Heat a large skillet to medium/high heat, brown ground meat, breaking apart as it cooks. Drain once browned and return 6 oz. to pan, store remained for a meal prep option.

Add corn, cumin, garlic, salt, black beans, onion powder and paprika to meat in pan, cook on low/medium for 4-5 minutes. Remove from heat.

Remove sweet potatoes from oven and evenly distribute meat mixture (you can measure the contents and divide by 3 for precision) into sweet potatoes.

Blend all ingredients for the sauce in a high powder food processor until smooth. Add more water if you need to adjust consistency 

Top each with 2 tbsp. smokey chipotle sauce and return to oven at 400 for 5-10 minutes. Remove and top with fresh pico and any additional desired toppings.
NOTES:
Tahini: a ground up paste made from sesame seeds, you can find it with the peanut butter
Liquid smoke: Usually found with the BBQ and hot sauces, feel free to omit it.