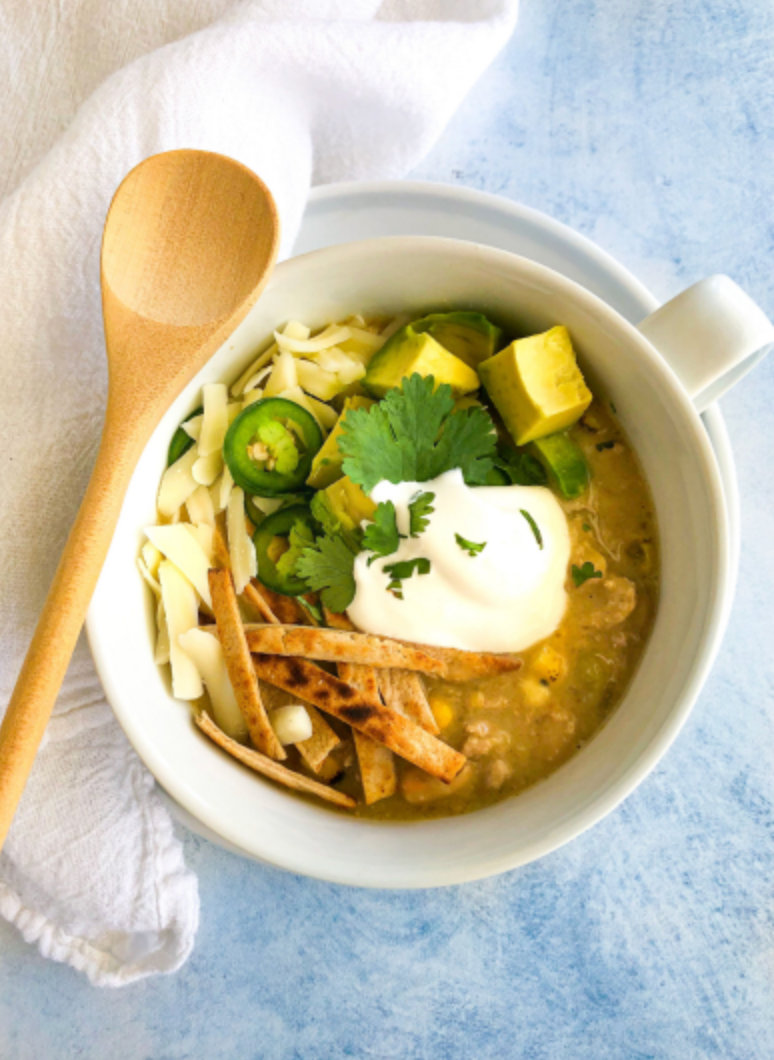 Colder weather is a constant here (at least for a few more months), so our stoves and slow cookers will soon get even more love. My kids have loved a warm and hearty meal after a day on the mountain; this recipe is no exception.
Here's a white bean chili recipe that's so easy to throw together with one pot and a few pantry ingredients. It's perfect for a game-day lunch, and the leftovers taste even better reheated for meal prep. This chili is mild enough for the whole family to enjoy. This meal is balanced in calories (313 cal per cup) and high in protein (33g!) to keep you full and satisfied.
Yield: 10 1-cup servings
Macros (without toppings): 313 cal per cup | 3g F | 33g P | 38g C (14g from fiber)
Ingredients
·       32 oz (1 box) low sodium chicken broth
·       2 pounds 93-99% lean ground turkey
·       3 15 oz cans white beans (cannellini, navy, and/or pinto)
·       1 can 98% fat-free cream of chicken soup
·       1 4.5 oz can diced green chilies
·       2 small onions (chopped)
·       5 garlic cloves (diced)
·       1/2 tbsp cumin
·       1/2 tbsp oregano
·       2 tsp chili powder
·       Cooking spray
·       Preferred toppings like Greek yogurt or sour cream, pepperjack cheese, avocado chunks, or tortilla strips.
Directions:
Spray the base of a stock pot with cooking spray. Add onions and garlic then sauté over medium-low until fragrant. Add in ground turkey and cook over medium heat until browned. Drain if necessary.

Add remaining ingredients except cream of chicken soup. Stir. Reduce heat to low and simmer covered for 30 minutes, stirring occasionally.

After 30 minutes, stir in cream of chicken soup and simmer uncovered for 5-10 more minutes.

Add your favorite toppings and enjoy! Chili can also be stored in an airtight container for up to 5 days in the fridge.