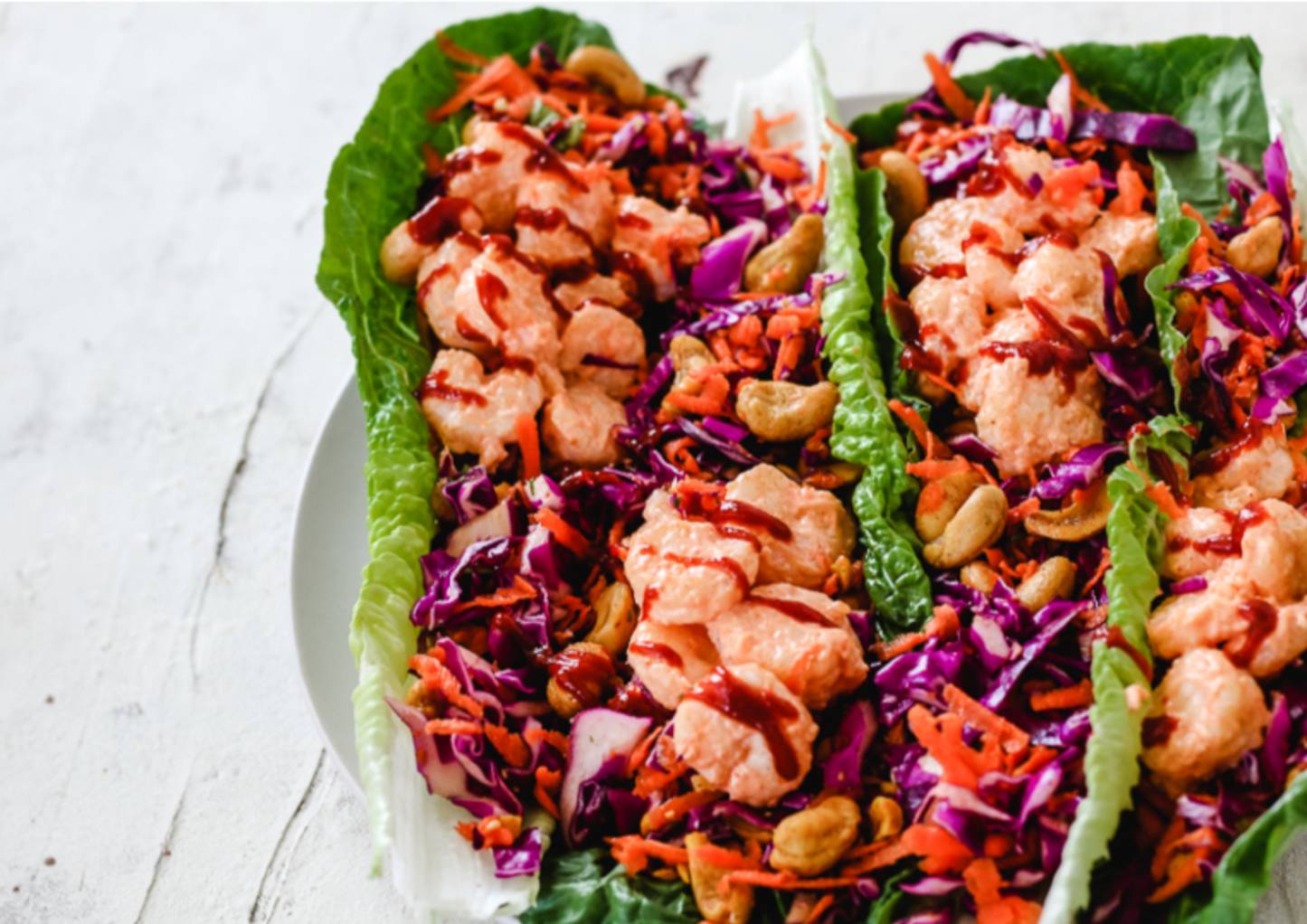 If you're looking for a bit of variation in your diet but still want to keep the protein high and carbs low, have you tried a lettuce wrap?  I think these are a total hack for feeling like you're eating something more calorie-dense than you are.  You aren't sacrificing flavor or substance, just the added carbs, and fat.  It's genius.
Try these savory Asian shrimp lettuce wraps the next time you want to spice things up a bit!
Servings: 4
Macros per serving: 7.5 F / 10.5 C / 22 P
Ingredients:
1 lb Argentine shrimp (any variety will do)

1 tbsp. cornstarch

2 tbsp. light mayo

2 tbsp. Plain greek yogurt

2 tbsp. Chili garlic sauce

3 oz. shredded carrots

1 cup shredded purple cabbage

2 tbsp. cilantro

1/4 tsp. ginger

1 tsp. sesame oil

2 cloves garlic

1-ounce cashews, crushed
Directions:
Dry shrimp very well and coat in 1 tbsp. cornstarch.

In a large bowl, combine carrots, cabbage, cilantro, sesame oil, ginger, and crushed cashews. Set slaw aside.

Bring a large skillet to medium/high heat and coat liberally with spray oil. Cook coated shrimp for about 2 minutes on each side, and remove from heat.

Mix mayo, greek yogurt, and chili garlic sauce together. Toss in scrim to coat.

Orange lettuce wraps with slaw and then evenly divide shrimp into four portions. Drizzle on sriracha or preferred hot sauce.