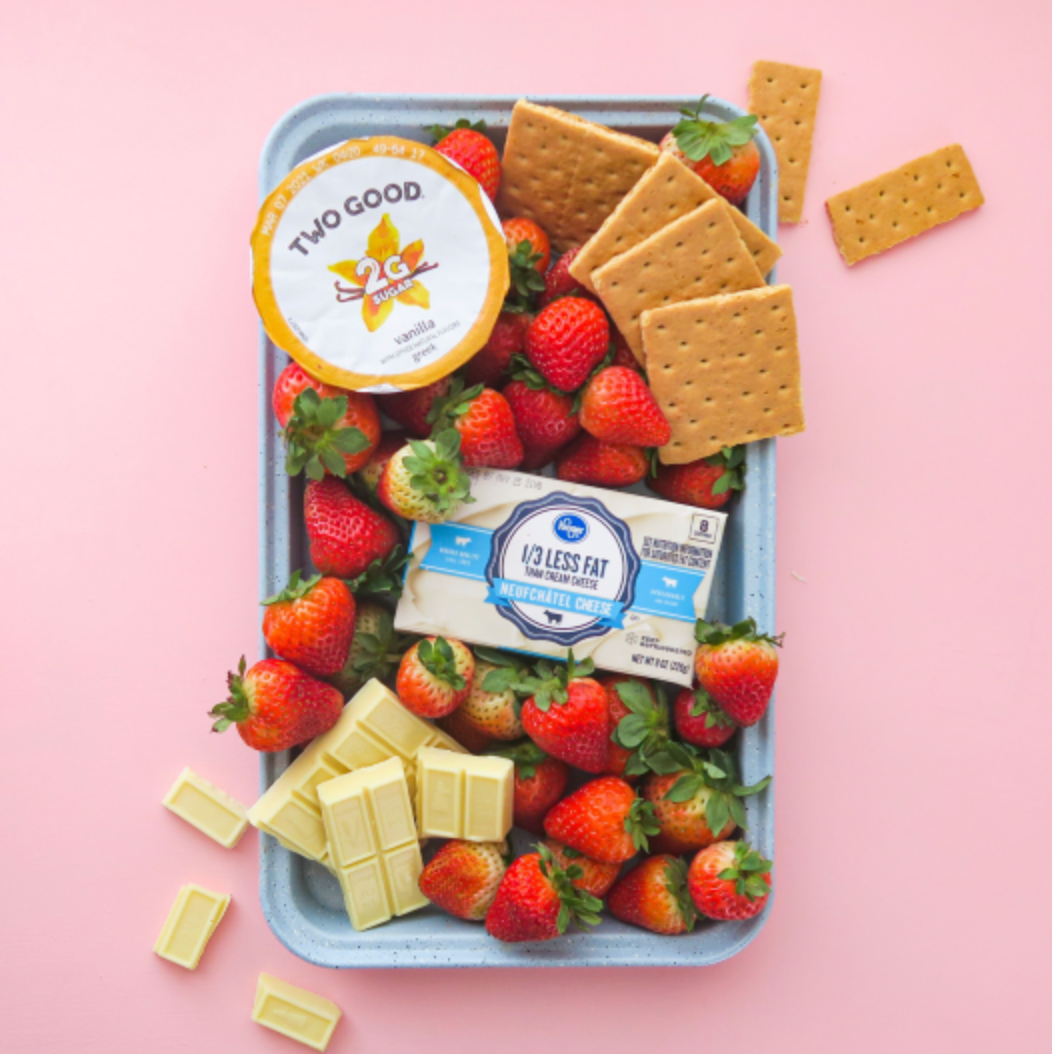 You've had chocolate-dipped strawberries, but I bet you've never had cheesecake-dipped strawberries! Aren't these cute? And a fun switch-up since Valentine's Day is so chocolate-heavy. Just whip up the cream cheese mixture, give your berry a swirl, chill, dip one more time into white chocolate, then coat with graham crumbs. It's the season of love, can't wait for you to fall in love with these!
**Yields 16-20 strawberries, 77 cal each**
Ingredients:
1 16oz container strawberries

6oz Neufchatel cheese

1 5.3 oz container Two Good yogurt (we used vanilla)

1 scoop Heart Macros vanilla cream protein powder

 2 packets stevia (2g)

Pinch of salt
4oz white chocolate (1 bar)

1 tbsp coconut oil

4 graham cracker sheets
Directions:
Wash strawberries and pat them very dry.

Use a hand mixer or a strong arm to beat together the cheesecake layer until smooth.

Prepare a baking sheet with wax paper and a flat spot in your freezer.

Put the cream cheese mixture in a small cup, like a sauce dish or a tea cup. Dip each berry to coat (use a knife to spread if needed).

Repeat until everything's coated, then chill in the freezer about 20 minutes until the cheesecake layer is firm.

In the meantime, crush graham crackers into crumbs using a food processor or a rolling pin & bag. Pour crumbs on a plate.

Before you're ready to pull the berries out, melt white chocolate and coconut oil together in a small dish. Stir till smooth. Dip each berry into white chocolate, then coat with graham crumbs.

Freeze again until the chocolate hardens, 10-15 minutes.