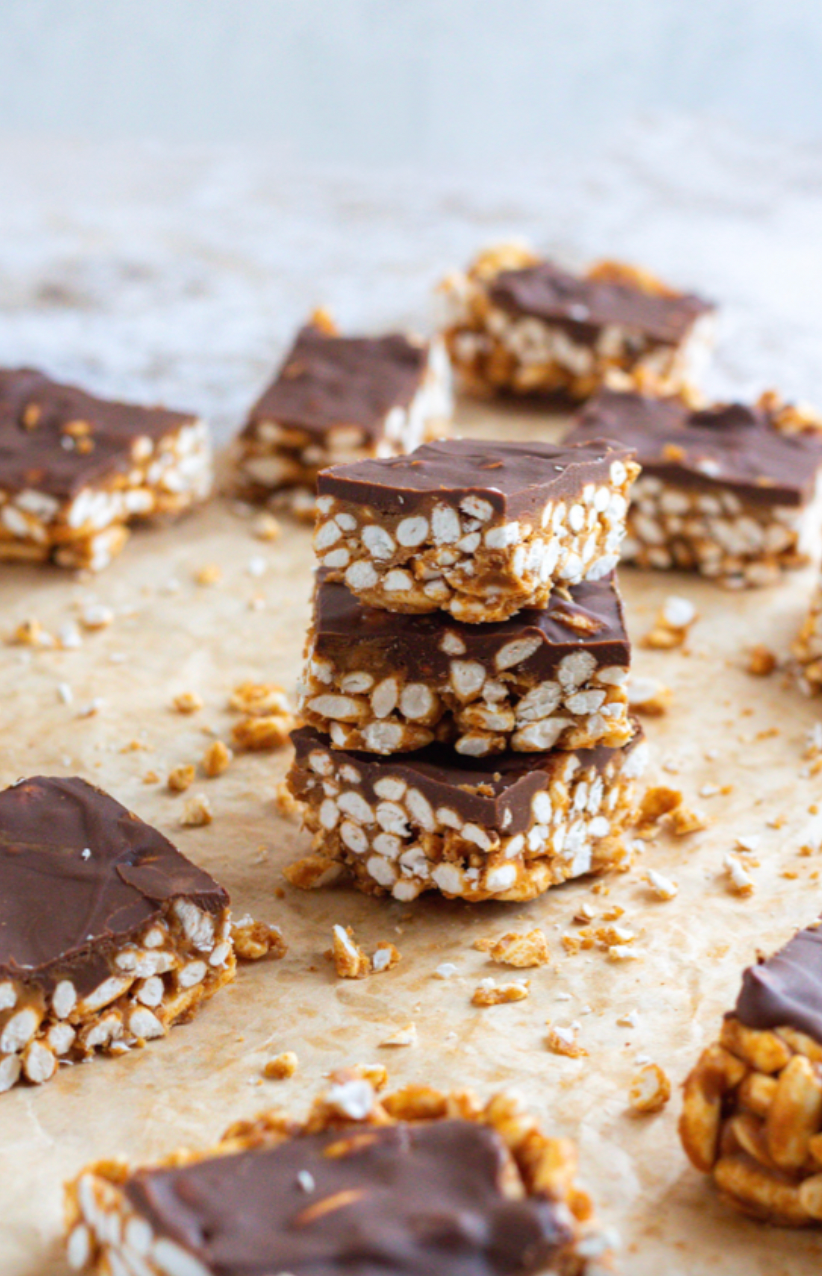 Peanut butter chocolate cravings come on STRONG, especially when a bag of Reeses Pieces is staring you in the face at the grocery store checkout! I love making alternatives that satisfy the sweet-tooth (or PB-tooth or chocolate-tooth) but give us more to enjoy! These bars do just that. The puffed rice adds some volume and brings the calories to less than 150 per bar! Who's trying these?!
Makes 16 bars
Macros: 146 ca / 8g F / 16g C / 3g P
Ingredients:
2.5 cups puffed rice cereal (Natures Path brown puffed rice was used here)

3/4 cup creamy peanut butter or almond butter

1/2 cup honey or brown rice syrup*

1 tsp vanilla extract

Chocolate shell: 4 oz 85% dark chocolate + 1 tsp coconut oil
Directions:
In a small pot over low heat, combine peanut butter, syrup, and vanilla extract. Stir until it thins out, about 5 minutes.
Add puffed rice to a large bowl and pour peanut butter mixture over it. Toss until well combined. Transfer to a parchment-lined 8x8 pan and press firmly on the bars to pack them into the pan.
Refrigerate for about 30 minutes.
For the shell, melt together dark chocolate and coconut oil over very low heat in a saucepan. Pour over cooled bars, then transfer to the fridge or freezer to set.
Slice and enjoy! These keep in the fridge or freezer for about a week (but they don't last that long!)
*You need a very sticky syrup to keep the bars intact, such as honey or brown rice syrup. Swapping sugar-free or maple syrup may not hold together as well.