 Regulates blood sugar levels.
MCT oil balances out spiked insulin levels due to evening meals, which will make sleep more restful and constructive. Eliminates morning fatigue
More restful sleep, thanks to powerhouse ingredients, means no more morning fatigue.
Improves hair, skin, and nails
Glow from the inside out: diminish wrinkles, fortify nails, and strengthen hair. Burns fat while you sleep.
MCT Oil can increase your fat oxidation which can accelerate your fat burning overnight.
Highly recommend!

"I love the taste and when I drink this about an hour before bed, I drift off into a wonderful, deep sleep. From the very first night I drank this, I noticed a huge jump in my sleep quality and I wake up feeling ready to go (no drowsiness, etc.)"

— 

Galen
SO SO GOOD

"Literally 20 out 10, I have never slept go good in my life. I have tried so many other sleep aids and none of them has helped me fall asleep and stay asleep! Even my mama + meme tried it, and they said the same thing!!! So thankful for KaleKouture + her recommendations. Highly recommend trying this product!!!!"

— 

Charlie
THE BEST!

"The absolute BEST! I have tried other sleep aids and this is the only thing that has me feeling like I've had a good deep sleep while not feeling sluggish and dragging the next day. Collagen sleep is the best and will be the only thing I'll use. Oh and it tastes amazing."

— 

Stefanie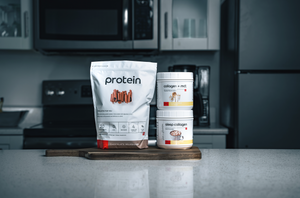 Stack and save 25%
If your goal is recovery, save 25% on your iHeart Collagen Sleep when you purchase the Recover Stack with our two other most popular tissue-repairing products.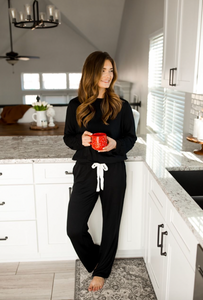 IHM x KaleKouture
"Before we created iHeart Collagen Sleep, I literally couldn't sleep and it had been a problem for me for two years. I tried every supplement on the market and nothing worked for me consistently. 
Collagen Sleep is a collagen AND sleep supplement that actually WORKS!   I was determined, when creating this with Brandon and Quincey, that what we created would work efficiently, consistently and that it would help people like me get their sleep back.
I love this stuff and I cannot wait for you to try it. If you struggled with sleeping, I am praying that it works for you as well as it does for me. 
I like to mix mine with Almond Milk and it's basically like having a hot chocolate before you go to sleep every night - and what's better than that?"
Optimize your sleep.
Sleep is just as important as diet and exercise when it comes to reaching your health goals. iHeart Collagen Sleep makes sure that you're getting deep, restful sleep.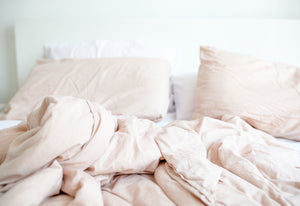 Wake up feeling refreshed.
Many sleep supplements can leave you feeling more tired in the morning. With a perfect mixture of collagen, MCT, chamomile, and melatonin, iHeart Collagen Sleep will have you waking up happy.
Improve and restore cell health
Supplementing collagen as a part of your daily routine will help improve hair, skin, and nails as well as the connective tissue within your muscles.
Why take collagen before bed?
Collagen is exceptionally rich in a protein called glycine, which has been linked to improvements in sleep.
Typically, people will experience that it's easier for them to fall asleep, but some research has also supported that they feel like their sleep is deeper. So, because the quality of sleep improves, people generally report less fatigue the next day.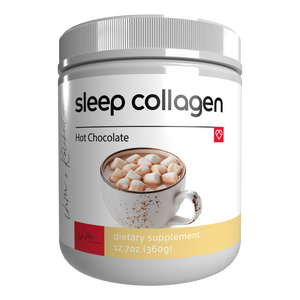 How it works:
Powerhouse ingredients, Collagen and MCT
Collagen is a well known protein (thanks to the beauty industry) that our bodies manufacture naturally, but less and less as we age.
MCT (medium chain triglycerides) is also well known, works well being taken before bed due to its' ability to reduce insulin spikes from high Glucose Index (GI) carbohydrates.
Healthy sleep promoting ingredients
Chamomile and melatonin work together inside our Collagen + MCT formula to provide the most deep, rejuvenating sleep possible.
Powerhouse Ingredient: 3 mg Melatonin
Melatonin may improve sleep, eye health, and seasonal depression. Doses of 0.5–10 mg per day appear to be effective for most individuals. We love that the combination of melatonin, chamomile and collagen help you fall asleep and stay asleep.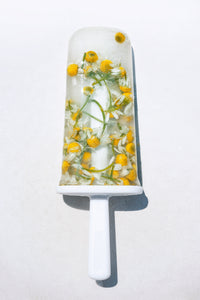 Powerhouse Ingredient: Chamomile
Chamomile also contains an antioxidant known as apigenin, which can induce muscle relaxation and sleep. In a review of 12 studies, chamomile was found to safely improve sleep quality.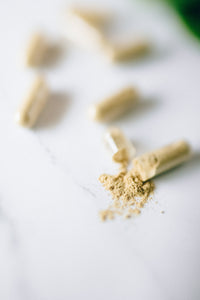 Powerhouse Ingredient: 5000mg Collagen
Your joints and your skin are both made up of 70% collagen. And as you get older your body's natural collagen production declines. We love that as you sleep, you can know that your body is repairing and renewing old cells and cellular damage.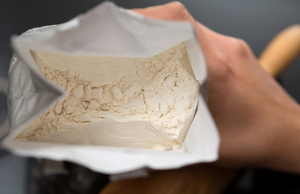 Powerhouse Ingredient: 5000mg Medium Chain Triglycerides (MCT)
MCT works well being taken before bed due to its' ability to reduce insulin spikes from high Glucose Index (GI) carbohydrates.
How to use iHeart Collagen Sleep:
1. Habit stack with your current nighttime routine.
Like anything in life, consistency is key when it comes to better overall sleep. If you like to read a book before bed, make yourself a cup of Hot Chocolate Collagen Sleep before you sit down to read.
2. Mix and zzzzzzz.
Mix one level scoop with four ounces of your preferred hot or cold liquid. Stir thoroughly (we love to use a milk frother or electric whisk).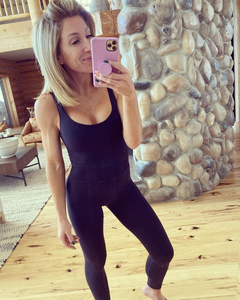 Quincey's Evening Routine
I love a routine! Because consistency is the key to results in so many things, an evening routine is so important. And you know what they say, a good day starts the night before!

1. I always get kids down to bed then take time for myself. That includes bath or shower, washing my face and using my nightly routine skin care.
2. Get into some Cozy PJs and prepare my IHM Sleep Collagen.
I sip it in bed while I scroll IG!
3. Before bed I love to review the day ahead of me and make a list of things I'm grateful for.
4. And I'm out! Ready, set, good night's rest.
Frequently Asked Questions